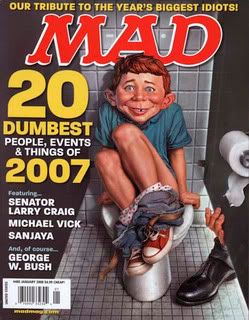 Mad Magazine, that purveyor of social satire and all things dreck, caught my eye this morning. The cover for the January issue headlines the year's 20 dumbest people, events and things of 2007, and the image of their mascot Alfred E. Neuman is posed hiding on a public toilet seat, pants down, uncharacteristically wide-eyed, while a man's black dress shoe sticks out under the stall and a hand comes reaching up.
Yup. You guessed it. Senator Larry Craig made the list, and the subsequent article "Craig's Lust" shows a spoof DVD entitled "There's Something About Larry," the Wide-Stance Edition no less. It made me chuckle and also shocked me a bit, especially looking at that cover art. I'm glad we have it here at the public library.
Though the look on his face makes me wonder. Alfred E. Neuman is known for his maxim of "What, Me Worry?" The look of shock and fear on his face is a little surprising for his character. In fact, I don't think I've ever seen Alfred look surprised or afraid. He's always in his Zen state of obliviousness. Is it the scene that's making him worry and fear, or is it just Craig himself that he fears? It's a little unclear. Knowing that Mad always goes for the direct hit I could easily say that he's afraid of Craig himself coming after him in the toilet, especially with the hand there! But still, it seems out of character, and a little too much "Gay panic." I think I'd rather him be blase about the scene, or sarcastic about it, or even snickering at it than afraid.
That doesn't mean that it isn't funny. Cuz trust me, I found it funny. Just complicated.